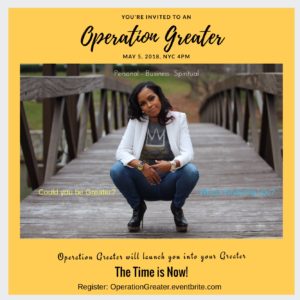 Operation Greater is exactly what it says – an operation? could you be Greater whats hindering you? The time is now I'm here to interpret your excuses and give you The GREAT PRINT – not the Blue Print but the Keys to Greatness- Teaching you how to move from your past to your future, breaking cycles and creating daily disciplines that guarantee you Great Results! The time is Now! Action and Results are what this event is all about. This event is Sponsored by Jesus he paid for your entry although you must register – Click the picture above
I'm doing this event out of obedience- I am going back to my hometown NYC I moved 10 years ago in 2008 – I was not saved then or should i say I didn't have a relationship with Jesus then. I share that because since my relationship with Jesus I found my purpose and I received deliverance and healing from my past pain, i'm now an author who tells my story- but all I did because Jesus was revealed to me and he guided me- I thought God forgot about me but he didnt and he hasnt forgotten about you – so I am coming as a representaive of the Kingdom of God not to get you to sign up for religion but to release the Love of God in the form of giving- I am giving all of you all of me. I am sharing everything I've learned personally and spiritually and business – all because God told me too-  he loves you and its time the Hood see what God looks like in others- he is sending me so I'll go. Nyc I'm excited.
if anyone would like to be a blessing and Donate you may do so by clicking the donate button at the top of the page or $Cash app – $Ladytythegreat .
Thank you all for your support and Prayers- God bless you!